Nathan Ripperger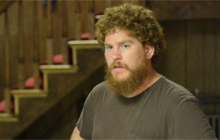 Nathan has been working in video for close to a decade and has always had an interest in the unique.  Originally from south-west Iowa, Nathan received his bachelors in communication from Loras College in Dubuque, Iowa where he still resides today.  Nathan is currently working as a video producer for the University of Dubuque, but in his spare time does freelance video production and graphic design.  Nathan is also known for his graphic design works "Things I've Said to My Children" which have been featured on Buzzfeed, the Huffington Post, and the Good Men Project.  Nathan along with his wonderful wife Christine, are the parents of four rambunctious boys.
Dustin Roth

Dustin has always had a passion for making video. He received his bachelors degree in Communication and History while attending Loras College. Dustin spends his time behind the camera writing, producing commercials, television shows, live sports, and documentaries all over Iowa. Dustin has won multiple National Telly Awards for his television commercial work and has worked on the National Award winning TV Show "Kids in the Kitchen". Dustin is currently a producer with OnMedia, living in Burlington with his wife and two crazy kids.
Adam Kokontis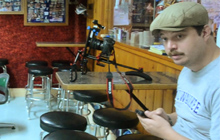 Adam Kokontis met Nathan and Dustin while attending Loras College in Dubuque, Iowa.  They soon realized that they shared a common love for absurdity.  In addition to his production experience, Adam is also an accomplished musician, spending neatly two decades writing and recording music and touring with a band he formed in high school, for which he produced a tour documentary. Adam spends his days producing comedy DVDs, shooting depositions and digitizing 35mm slides and 1/4″ audio tape.  He currently lives in Cedar Rapids with his excellent wife Carol, their perfect son Leonard, Leonard's Fish Stop Sign, and a dog named Ruby who is a bit skittish but still Sweet.
Chris Uffman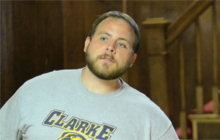 Chris Uffman came to Iowa by way of Michigan, where he was a four year member of the Michigan State University Intercollegiate Bowling Program from 02-06, and Head Women's Coach from 06-09. He created the Clarke University Bowling Program in 2010, and is currently the Head Men's and Women's Coach. He has several amateur bowling titles, as well as four perfect games to his credit.
Leave a reply
Fields marked with * are required